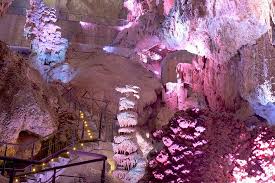 Canelobre Caves are located in Busot, a scenic 24km drive from Alicante. Take a guided tour of the caves in the side of the mountain to see the jagged teeth of the stalacites and stalagmites, made all the more dramatic by the coloured lighting displays. Don't miss the dramatic 70-metre high cave, one of the tallest in Spain, and resembling a vaulted cathedral ceiling. Tours are held throughout the day and take around 45 minutes.
Opening times: (Sept to June) Tues to Fri 10.30am - 4.50pm, Sat, Sun & holidays 10.30am - 5.50pm. (July & Aug/Holy Week) Daily 10.30am - 7.30pm.
Location: Busot, Alicante province.
Price: Adults €7.50, Children 5-14 €3.50.
website
https://turismobusot.com/las-cuevas-del-canelobre